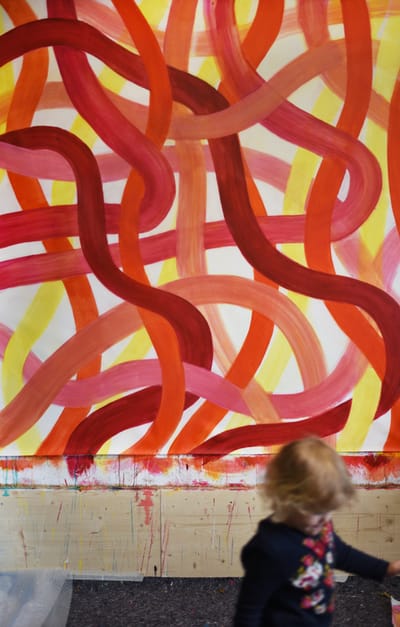 Studies at the University of Fine Arts Braunschweig - Assistant to Prof. Ottokar Koeppen - Diploma - Art Director for Advertising and Design for international brands - Lived and worked in Brazil, Switzerland and currently in Germany - Art and Design Education - Continuously free work in the fields of photography, painting, drawing
Statement
I work abstract, because it allows me to explore the areas of my inner life. I create a fictional world of feelings and memories that relate to real life without depicting it. I play with the limits between drawing and painting.
My work can be seen as a continuous investigation in the possibility of lines. I use its potential as an artistic statement in relation to transparency, movement, rhythm and space. I am fascinated by the impact of colour. I apply it in an intuitive process. My work begins with the spontaneous, intuitive gesture that initiates a process of addition and subtraction. Reflection, variation and sometimes revision lead to new results. Since Corona crisis I work strictly with geometric patterns and stereotypes in a planned process.
I am involved in the Discursive Geometry Movement.
I ask questions of what painting still is today. My favorite technique is the watercolor. It allows me to work graphically and precisely both as a painterly and spontaneously. It is the most authentic and personal expression of the moment because it doesn't allow any correction. The colors are applied in individual layers, sometimes they run into each other. I produce these watercolors with acrylic paints on fabric, some on very large format (2.50 m). I do continuously nature studies and use their harmonies and proportions for my abstract images. They have become their own body of work.
With abstract art, I react on the complexity of our contemporary world. There is a narrative intention. With my latest work I explore ideas around power imbalance, authority and industrial progress in relation to personal freedom.
Exhibitions/Projects
line, shape, color, gallery "7", Athens, 2023,
NEW, BBK/W, Baden-Württemberg, Stuttgart, 2023
abstractions de lignes - lac de Constance 2020 - 2023, abstract projekt, Paris, Soloshow, 2023
Verschwundene Orte, Kunstverein Konstanz, 2022/2023
summerexhibition, Bos Fine Art, Den Haag, 2022
Von Zero bis Zen -Kunst nach 1945, Galerie Studio NOVO Artspace, Köln, 2022
Member of BBK Stuttgart
Scholarship of Baden-Württemberg zur "Förderung der künstlerischen Praxis im Zusammenhang mit der Corona-Pandemie", until 06.2022
Bos Fine Art, Duo Exhibiton, Den Haag/Utrecht, 2022
Covimetry, 2021, international art project, Ely Center of the Arts, New Haven/Connecticut, USA
Stock Sales, Bos Fine Art, 2021, Den Haag, NL
Fora da casa - Asas da liberdade, 2021, São Paulo, Brasil
Grün III, 2020, Galerie Überlingen, Germany
THE SOUND OF SIGNS 3, international art project, 2020, Italy
Covimetry 2020, international art project, Kielce, PL
Kunstverein Konstanz, Germany, 2019
2004 -2009, various group shows with my students
Galerie Pitz, Solo Exhibition Photography, Braunschweig, Germany
HBK Braunschweig, various group shows